Diary of a Madman
What up?
Ok, so,
A few brief announcements:
The new issue of Nashville Arts magazine will be on the street this week. I saw the new copy last night and it looks even better than the first one. I was pleased to see that it is 4 pages longer and the content/ads ratio feels much better. For those of you who don't know, I write about visual art in Nashville, TN and I contribute to this new publication. I am also pleased to mention that Emily Davidson is also contributing to the magazine.
Emily Davidson is the driving force behind "Radically Shifted," a great new literary quarterly in Nashville that is available at Davis Kidd and Rhino Books (both locations). We are about to blitz the local print media so keep your eyes peeled for news about this project. I have contributed to both issues and have a short-short story and a poem in this new issue, which is written around the theme of Desire.
We are currently kicking around themes like Envy and Boundaries for the Fall issue. Any opinions? Ideas? The Desire theme in the current issue lead to some pretty amped-up writing. Its interesting how Desire is so quickly associated with sexual desire and the word seems to conjure a deep emotional response.
Ok,
The world premiere of our Mockumentary film,"Uncovered Wagon: True Life on the Trail"
took place during the 48 hour film contest last Friday. Our team met at the Villager for some darts and then headed into an overcrowded Belcourt for a hootin' hollerin'48 hour films meltdown. It's really a lot of fun, because the whole audience is comprised of a ton of other people who have been through the same ridiculous experience as you have, therefore, they are in on the joke and really appreciate the high points of a given film and genuinely sympathize with the shortcomings. You can still see the film through Wednesday at the Belcourt. We are in group B. For regual admission price, you get to see 2 groups which translates to about 24 eight minute films, good, bad and ugly....
Also if any of you are on myspace, be my friend!
www.myspace.com/mightyjoenolan
Recently watched a documentary on Orson Welles that is included in the extra features of the Criterion "F for Fake".
Haven't watched the film itself yet, but it looks really good.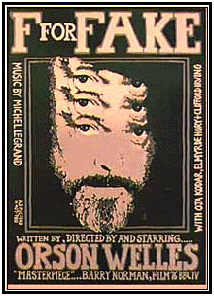 Be humble in your sleepy hands on this world.
Be a killer in Heaven.
Love,
Joe Nolan