Serpents in the Garden
At the end of the day, the world gets weirder by the hour, and everything that crackles across the shortwaves tonight, in insomniac blinkings and the desperate fits of paranoiacs and bad-dreamers, will be splashed across the headlines within weeks, true facts woven from half-truth speculations, blooms barely given time to flower.
In these times the madman and the seer are as indistinguishable as the lemming leap and the vertigo: we see the line, and yet we are compelled to cross it. Why? Because we are now beyond ourselves, and we seek a new understanding the way our ancestors did when they left the trees for the grasslands, the grasslands for the fields, the fields for the cities, and the cities for the stars.
Having reached the stars we now discover the universe within. Here - at the end - we are about to swallow our own tail. Is it any wonder that we should discover that the Snake still slides through th Garden?
This story first appeared in The New York Times.

Soldier With a Long History of Delusion Is Suspected in 3 Attacks

DAN FROSCH and LIZETTE ALVAREZ

Published: Friday, November 21, 2008 at 5:20 a.m.
Last Modified: Friday, November 21, 2008 at 5:20 a.m.

COLORADO SPRINGS — A Fort Carson soldier and war veteran charged in the murder and sexual assault of a woman in Colorado last month faces accusations that he also raped a 14-year-old girl and sexually assaulted a third woman, an internal Army document states.

The document, the Commander's Report on the suspect, Specialist Robert H. Marko, also raises serious questions about his mental state during his time at Fort Carson beginning in late 2006 and whether he should have deployed to Iraq in 2007.

It was common knowledge among his commanding officers and fellow soldiers, the document states, that Specialist Marko, who is being held without bond, believed he was an "alien dinosaur-like creature, and that he would transform from his human form into his Black Raptor form on his 21st birthday — 13 Oct 08."

Specialist Marko, 21, is one of six soldiers from the Fourth Brigade Combat Team based in Fort Carson, Colo., who have been charged or convicted of murder in the past two years.

He is charged with raping and murdering Judilianna Lawrence, 19, a developmentally disabled woman he had met online. Specialist Marko admitted to the police that on Oct. 10, he took Ms. Lawrence to the mountains overlooking Colorado Springs, blindfolded and raped her, then slit her throat, according to the El Paso County Sheriff's Office arrest affidavit. The affidavit also said that three days later — the day he believed he would transform into Black Raptor — Specialist Marko took the police to where he had left her body.

The slaying of Ms. Lawrence, a gentle woman who was sheltered by her family because of her severe attention-deficit disorder, led Senator Ken Salazar, Democrat of Colorado, to request an Army investigation into the Fort Carson soldiers who have been charged with murder.

Since Ms. Lawrence's murder, two people have come forward to the authorities and accused Specialist Marko of rape or sexual assault, according to the Army document obtained by The New York Times. Both incidents prompted law enforcement investigations. The Army document is a synopsis of interviews with military personnel who knew Specialist Marko, family members and a psychiatrist, among others.

Five days before the death of Ms. Lawrence, Specialist Marko is said to have picked up a 14-year-old girl on the road who had fled a psychiatric hospital. The girl claims that a man matching the specialist's description drove her to the mountains and raped her. Her description of the location "matches" the area where Ms. Lawrence was killed.

Another woman stated that in May, Specialist Marko "aggressively" tried to have sex with her in his barracks room. After a soldier knocked on the door, he stopped the assault, she said.

Specialist Marko, a mortarman, had a "history of behavioral health issues that predated his enlistment" in 2006, including alcohol abuse, according to the Army document. He also had Tourette's syndrome, a neurological disorder, and speech and learning disabilities. He displayed an "extremely active imagination," the document said.

He had no record of violence or bad conduct in the Army.

After joining the Army, his "unusual beliefs" in his Black Raptor alter-ego resulted in his being referred for psychiatric evaluations three times. Ultimately, the beliefs came to be viewed by his mental health evaluators as a religion, of sorts, like Wicca.

The first evaluation took place during basic training. The second was at Fort Carson in November 2006, before Specialist Marko was deployed to Iraq in February 2007, when he was flagged for "symptoms of mental illness." A psychiatrist diagnosed a "schizotypal personality disorder," which "may or may not result in some ultimate functional incapacity in the military."

Nevertheless, the psychiatrist cleared Specialist Marko for duty "without limitations, scheduled no follow-ups" and declared him "deployable."

His superiors in Iraq were unaware of the details of his evaluation and knew only that he had been cleared for duty.

Specialist Marko was assigned to the cavalry, served as a gunner in Baghdad and was viewed as a good soldier. He was generally reluctant to fire his weapon, had limited contact with the enemy and no "proclivity to violence," the document said.

Upon his return home in December 2007, Specialist Marko was again flagged for a psychiatric evaluation, but he reported no mental problems and "was released without limitations."

During his two years in the Army, Specialist Marko's Black Raptor alter-ego was considered more a "source of humor than fear or concern" among his fellow soldiers, the document said.

It said that his alter-ego was an "amalgam" derived from books, movies and "computer-Internet-based role-playing video games," which he began to develop as a child. Both parents were aware of his "delusions."

His father told his commander that his son's fascination with dinosaurs intensified at age 12 after he read the book, "Raptor Red," written by a paleontologist. The book prompted ongoing nightmares, Specialist Marko told an Army health-care provider after his return from Iraq. Despite the alter-ego, his father told his commander that Specialist Marko could distinguish right from wrong, fantasy from reality.

He told his superiors that he had joined the Army to "get combat experience — something that he viewed as important to his Black Raptor identity."

"His chain of command all shared concern over his mental state," the document said. Their understanding from his evaluations, though, was that "Marko's delusions represented an alternative belief structure — the equivalent of Wicca or some other alternative religion."

Specialist Marko's mental state did not interfere with his performance, nor is there evidence that his time in Iraq "contributed" to his condition, the report said. The Army document went on to say that "lacking a history of indiscipline or violent behavior, Spc. Marko was not considered a threat to himself or others until he was held under suspicion of murder on 11 Oct. 08."

Specialist Marko's MySpace page was replete with his dark impulses. "I'm becoming a true Black Raptor already,"' he wrote in his profile. "I'm becoming a cold-hearted killer and can kill without mercy or reason."
A few comments:
The Black War Raptor is a battle mount in the MMORPG, World of Warcraft.
The book,
Raptor Red
is currently available on Amazon. The site features the following description:
From Publishers Weekly
Narrated from the point of view of a dinosaur, paleontologist Bakker's novel is filled with facts and informed speculations regarding dinosaur life.
Copyright 1996 Reed Business Information, Inc.

From Library Journal
The dinosaur known as "raptor" first became well known through Michael Crichton's Jurassic Park (Knopf, 1990). Revolutionary paleontologist Bakker (The Dinosaur Heresies, LJ 11/1/86), who consulted on the special effects for the film adaptation, has written a novel that might be subtitled "A Year in the Life of a Dinosaur," as he tells the story of Raptor Red, a giant carnivore of the Early Cretaceous period. Having lost her mate in a botched hunting attack, Red (so-named because of the red stripe on her snout distinguishing her from other raptor species) joins forces with her sister and her sister's three chicks to survive in a world of hostile natural forces. Bakker manages to mix scientific theories?some of which are definitely on the cutting edge?with a rip-roaring narrative. Perhaps even more miraculously, he has created a sympathetic nonhuman heroine without anthropomorphizing her into a Disney character. This astonishing and successful novel will appeal to a wide audience and belongs in all fiction collections.
-?Eric W. Johnson, Teikyo Post Univ. Lib., Waterbury, Conn.
Copyright 1995 Reed Business Information, Inc. --This text refers to an out of print or unavailable edition of this title.
Conspiracy maven
David Icke
has long advocated that many of the world's most powerful bloodlines are actually made up of human/reptile hybrids.
Is the coming of human/reptile hybrids predicted in The Book of Revelation?
When the "Star Angel" opened the "Bottomless Pit," smoke, like the smoke of a great furnace, issued forth and darkened the sun, and there came out of the smoke LOCUSTS upon the earth. These were not ordinary locusts. Neither were the locusts of the "Eighth Egyptian Plague." Ex. 10:3-20. For we read of them that "there were no such locusts as they, neither after them shall be such," that is, just like them. Nevertheless they were locusts, not some "composite creature" such as John saw, for they acted like locusts and ate up every green thing. The difference must have been in their size and voraciousness.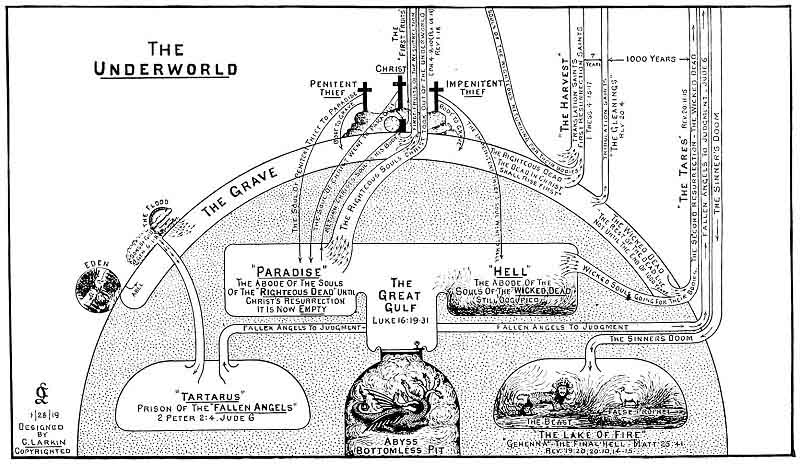 The LOCUSTS that John saw come out of the "Bottomless Pit" were a kind of "INFERNAL CHERUBIM." That is, they were a combination of the HORSE, the MAN, the WOMAN, the LION, and the SCORPION, and the sound of their wings in flying was as the "sound of chariots of many horses running to battle." Their size is not given, but they were doubtless much larger than ordinary locusts, but they were not like them, for ordinary locusts feed on vegetation, but these locusts were forbidden to hurt the grass, or the trees, or any green thing, but were to afflict ONLY MEN, and they had human intelligence, for they afflicted only those men who had not the "SEAL OF GOD" in their foreheads. These men they were not permitted to kill, but only torment, and that for only a limited period--FIVE MONTHS, the time limit of ordinary locusts, which is from May to September. The length of time is mentioned twice, and the character of the torment was like that which follows the STING OF A SCORPION, which causes excruciating pain that often causes the afflicted person to desire to die. So fearfully excruciating will be the anguish of those who shall be tormented by these "SCORPION LOCUSTS" that they will "seek death, and shall not find it; and shall desire to die, but death shall flee from them," the inference being that the LOCUST or DEMON controlling them shall have power to prevent their death.
Use this slick toolbox to listen to - and purchase - my new CD at your favorite online outlet. Also click the VIDEO button to watch the short film
REvolution
featuring yours truly on the soundtrack.
Enjoy!
Be gentle in your sleepy hands on this world.
Be a killer in Heaven.
Love,
Joe Nolan
Check out my profile at
Reverb Nation
to see my updated press and bio.
Listen to my earlier releases, and enjoy free downloads here!
Support this site! Buy Joe's Music! ...
<